White Desk Chairs For A Modern Twist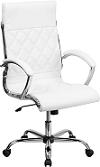 If you are looking to add a touch of contemporary style to your existing office space, then it may be time to start shopping around for white desk chairs. These can be a great piece of furniture to complement any office space. The crisp, bright color of white desk chairs can create energizing contrast in any room while providing a functional purpose as well.
White desk chairs come in a variety of styles and materials. For those looking for modern office chairs that are affordable yet comfortable, ergonomic white desk chairs may be the ideal choice. No matter what type of modern office chairs you may be in the market for, you can be sure to find what you are looking for. When it comes to desk chairs in white, we offer a large variety of styles, including (but not limited to):
Whether you are tired of your existing office chairs or are simply looking to buy something that is more comfortable, you can be sure to find what you are looking for by browsing our selection today. Give your existing office a makeover and add a touch of modern style to your workspace with a great and cozy new desk chair from our store.
Contact us today to learn more about our collection of white desk chairs, modern office chairs and more to suit your unique office space.