Guest Chairs In Variety Of Colors, Styles & More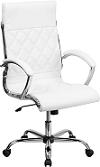 If you are searching for modern office chairs, Office Chairs Discount will provide you with the quality and price you will love. Our white computer chairs are the perfect solution to a clean, refreshed look for your office. If you have a business center in your dental, medical, or commercial lobby or office lounge, our white computer chairs are perfect. We feature leather, mesh, wood, and cloth in a variety of styles and ergonomically correct models, and each chair is made for durability and comfort.
If you are looking for a modern style for your office, you will not be disappointed with our selection of computer office chairs. Our clean, executive white computer chairs are suitable for doctors, lawyers, business professionals, and visiting customers.
Our top-of-the-line modern office chairs are designed to complement any selection of existing office decor. Our styles range from modern and eclectic to classic, traditional, or contemporary, with the following options for your comfort:
Dual Wheel Casters
Fire Retardant Foam
Mid-Back Heights
Padded Seat, Back, and Arms
Pneumatic Seat Height Adjustment
Spring Tilt Control Mechanism
White Leather Soft Upholstery
We offer one of the largest selections of white office chairs, in every style, material, and comfort level. With Office Chairs Discount, your customers share in the comfort of our exquisite furniture. Contact Office Chairs Discount today, for the best selection and price on fine white computer chairs. Contact us to place your order for white office chairs or to learn more about our selection of modern office chairs.