Contemporary Office Chairs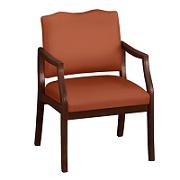 Having an office space that speaks positively of your company's drive towards professional service is always a plus. Contemporary office chairs make that happen by providing your office space with a tasteful and unique appearance that impresses both workers and clients alike. Not only will your representatives be pleased with the everyday comfort and durability these modern chairs offer, your clients will also enjoy the distinctive looks and inviting feel that come with them.
There are several types of contemporary chairs available to suit nearly any office need. For instance, a wooden office chair offers a unique sort of class and distinction that few other pieces of office furniture offer. Like their upholstered counterparts, these chairs also feature all of the ergonomic features that are essential for any office chair, including:
Pneumatic height adjuster
Tilt control
High-quality carpet casters
Durable fit and finish
We offer an excellent selection of contemporary office chairs that make a great addition to almost any office environment. You can place your order online or speak with one of our office furniture experts to learn more about the contemporary office chairs that best fit your needs. If you're looking for that special wooden office chair or any other type of contemporary office furniture, contact us today.