Modern Office Furniture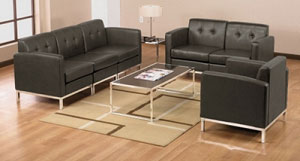 The look of the office conveys the business personality and first impressions are important. Modern office furniture combines functionality with good taste. Here are some design tips for the modern office.
Color Tones - Psychologists, as well as quality interior designers, know the importance of the use of color. Muted colors create a sense of peace and tranquility. Vibrant colors promote action. Careful choice of colors, with particular attention to matching tone, is an important part of the design.
Functionality - Having everything match and look good is meaningless, unless the modern office furniture also provides excellent functionality. Pay careful attention to modern office chairs because comfort is a high priority, especially for long use, and every individual is slightly different. Good chair choices allow flexible adjustments to accommodate different personal needs.
Use of Space - Office space rental costs are very high. Every square foot counts when coming up with an efficient and attractive floor-plan design. Allow plenty of room for movement, especially for modern office chairs used with desks, and pay close attention to the layout of cubicles, partitions, and walkways to maximize the use of large open spaces.
Clutter - Some employees like clutter, others do not. If clutter is an issue, provide plenty of closed storage space, combined with minimal horizontal surface areas.
Privacy - In addition to sequestered offices, achieve privacy in the shared areas by placement of modular panels made from sound deadening materials.
The key is balancing all these elements, to benefit workers and impress clients. Contact us to learn more or place your order for modern office furniture with free shipping today