Personalize Your Guest Chairs & Reception Seating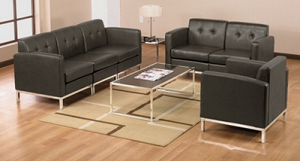 The first impressions customers form about your business take shape in your waiting room. To ensure the accuracy of those impressions, tailor your reception seating and furniture to your company's unique personality, while you also address the specific needs of your clientele.
Here's a short checklist to consider when shopping for waiting room chairs:
Style -- For a casual business image, the simple lines favored by contemporary designersmay be your best choice. For an old school image, traditional designs, with plush upholstery, may be preferable. Snappy colors broadcast a youthful style. And judicious color choices for your reception seating can subtly underscore your company's logo.
Durability -- For a waiting room handling heavy traffic, the durability of your reception seating may be a paramount concern. Chairs that meet ANSI/BIFMA's structural soundness standards are wise options. For easy cleanup, consider stainresistant fabrics, epoxy coatings and construction materials like polymer and plastic.
Client Needs -- If your clients can expect long waits, plush upholstery and Matrex seat supports will enhance both comfort and mood. If your customers are likely to have orthopedic challenges, waiting room chairs with firm armrests can facilitate easing into and out of a sitting position.
Floor Space Management -- Consider tandem and beam seating if your waiting room handles large numbers of customers. Alternatively, modular chairtable combinations can compartmentalize a large waiting room and foster a greater degree of privacy in selected areas.
Contact us to place your order for new guest chairs and reception seating today or for more tips on personalizing your waiting room chairs. We offer free shipping on any order for your waiting room furniture.