Healthy Seating in a Tall Office Chair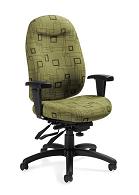 Consider for a moment how many hours you spend at work. Then think about how many of those hours you spend sitting at your desk. Most important is your tall office chair.
If your office chair is not right for you, it can cause you a multitude of health problems. An article in eHow Money lists some of the complaints as: pain, poor posture, and reduced productivity. The problem of a poor tall office chair can be even more challenging if you are bigger or taller than average.
A tall office chair can come in a variety of shapes, sizes, and styles. Many offer options to adjust the high back office chair to suit your needs.
Some of the options include:
Adjustable arms
Adjustable height
Back angle adjustment
Adjustable headrest
Selecting the right tall office chair for your size can be done by selecting a seat that allows you to sit correctly. According to Spine-Health you should be able to adjust the chair so that the desk is elbow high. You should be able to fit your fist between the edge of the chair and the back of your knee. You should also be able to fit two fingers under each thigh. The back of the chair should push your spine forward slightly, and you should be able to rest your head back comfortably. Adjusting your high back office chair to fit your height and weight can help keep you healthier and happier.
Contact us today to place your order with free shipping or to speak to one of our sales associates to answer any questions you may have. We build to your taste, you can choose your fabric, wood color and order your tall office chair right online!