Ergonomic Office Chairs For Improved Productivity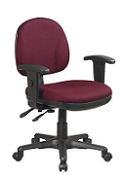 By promoting proper posture, ergonomic office chairs will help keep your employees pain-free and that may just mean higher productivity. Ergonomic office chair features come in many styles, ranging from the traditional executive chair to the contemporary mesh office chairs.
Here are some factors to weigh when shopping for ergonomic office chairs:
Decor -- Choose from an extensive selection of colors and styles to match your office's color-scheme and design priorities. Different construction materials also make different style statements. Consider leather upholstery for an upscale feel, for example.
Adjustability -- Ergonomic office chairs follow the natural contours of the spine, with particular attention paid to lumbar support. But because people come in different sizes, adjustability options will facilitate a more precise match between individual and chair. Consider chairs with adjustments for seat heat, arm-rest height, back height and the degree of lumbar support. Sliding seat options will accommodate different distances between knees and hips.
Durability -- Maximize your investment by looking for ANSI/BIFMA certification of the chair's durability. Other features likely to stretch a chair's life span include stain-resistant upholstery and scratch resistant finishes like titanium. A mesh office chair will reduce the risk of sweat stains.
Special Problems -- Employees with hip or lower back problems might appreciate knee chairs, which shift some of the weight onto the shins. Consider bariatric chairs for heavy-set employees. Built-in headrests can also ease cervical pain.
Contact us
to find your
ergonomic office chairs
today. You will always receive free design assistance from our team of office furniture experts and free shipping on every order!