Executive Office Furniture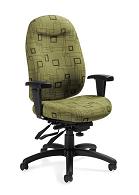 When you're looking to furnish an office, we have a large selection of executive office furniture to choose from. Our online shopping opportunity is available to start a new office or add a piece of furniture for an existing office our representatives are available for any questions regarding your office furniture selection at. It doesn't matter if you're looking for a executive desks, chairs, credenza or more. We offer an easy online shopping experience to buy. Either way, executive office furniture has never been easier to find or to buy.
We have just about anything you need for your office including the following:
If you are looking for office furniture that looks more modern, or if you are looking for more traditional leather furniture, we have what you want. Office Chairs Discount has all kinds of styles and colors to help you open a new office or find the last piece to complete your office. There is no need to look through catalogs only to discover they don't have what you need. Office Chairs Discount has everything anyone would like. Shopping for office furniture has never been so easy. For big offices or small, Office Chairs Discount has everything you need in an affordable and easy to shop place.
Contact us to learn more or place your order today.