Ergonomic Computer Chair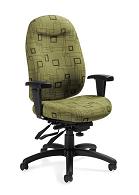 What is the best ergonomic computer chair for sitting? It is the chair that gives you the most comfort. The perfect ergonomic computer chair should have the comfort of a recliner and the feel of a massage chair.
The upper parts of your body should be supported at all times, headrest should be wide and adjustable, armrests and should be high or low enough to provide comfort at any level. Ergonomic office chairs are designed to provide support for the legs, arms, buttocks and back.
Ergonomic office chairs come in different designs and materials such as leather or mesh to fit your style.
The proper ergonomic computer chair offer support for workers who sit in one place for hours at a time. The majority of ergo chairs have a contoured back for easy sitting. The legs are sit comfortably on the floor, and provide stability. Workers who work in an office settings need to relax their entire body. Typing requires sitting in one spot and in one position for hours, without taking a break, be sure you have computer office chairs to provide the maximum comfort to peak productivity.
An ergonomic chair can reduce stress on certain areas of the body, and reduce the need to sit in awkward positions. Contact us to learn more about our selection of ergonomic computer chairs and feel the difference.