Modern Reception Furniture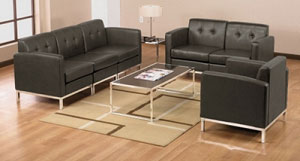 Your reception area is the first point of in-person contact for both potential and current clients. Once your client walks through the door, their first impressions are already formed at that very moment. Therefore, it only makes sense to create a welcoming area that speaks of your company's drive for success and client satisfaction. Several well-crafted and well-appointed pieces of modern reception furniture can help build positive first impressions and greater confidence among your clients.
Any piece of reception furniture you choose, especially modern office chairs, should include the following qualities and characteristics:
Comfort -- Any piece of office furniture you purchase should be inviting to use and able to provide both clients and representatives with relaxing comfort.
Style -- Modern reception furniture offers a positive, forward-looking appearance that not only fits in with almost any office environment, but also appeals to the sensibilities of current and potential clients.
Durability -- Years of use can take a toll on reception furnishings. Quality and longevity should be high on the list of desirable qualities.
Usability -- Your representatives should be able to get the most out of the reception furniture they use on a daily basis. Ergonomics, versatility and practicality are all important qualities to consider.
Modern office chairs, for example, not only look great in the reception room, but they also provide long-lasting comfort and a great first impression to clients. These and other great pieces of modern reception furnishings are not only affordable, but they also turn heads the right way. Contact us to learn more about our modern reception furniture or to request a quote for your order today.