Office Computer Chairs For Every Style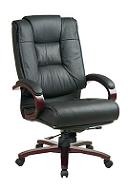 Many of us spend most of our days at our desk and at our computer. When you are considering new contemporary office furniture, always make sure that these office computer chairs are as comfortable as possible. Your productivity will suffer if you are constantly uncomfortable, getting up to adjust your chair or are straining to be able to do your jobs because your chairs are simply not working for you. There are a few things that you need to consider before purchasing a new office computer chair.
Here are some features to consider when shopping for your office chair.
Lumbar support for comfort in the lower back and will prevent muscle strain from slumping
A sloping seat to help your blood flow from your legs and a good seat will also evenly distribute your body weight
Fully adjustable armrests for slight slope and for height so that you can adequately do the work that needs to be done without the armrests being in the way
A height adjustable seat and one that also allows you to adjust the tilt. This will allow you more comfort while you spend much of your time in the office computer chairs
You will also need to decide if you need a lot of mobility, or if you will stay in one place to work and type. Sometimes there are different areas on the desk that require you to move around. Office chairs without armrests are best for those that constantly shift to use different machines or different areas on their desk. If you like the occasional comfort of arm rests but you still require a lot of mobility in your workspace with contemporary office furniture, try to get a chair with adjustable arm rests. If you will be sharing your workspace with other people, it is best to get chairs that are easily adjustable. You will probably be adjusting the height, seat, back, and the armrests often as other people may also adjust them on your office computer chairs.
Contact us today to place your order with free shipping or to speak to one of our sales associates to answer any questions you may have. We build to your taste, you can choose your fabric, wood color and order your office computer chairs right online!