Stackable Office Chairs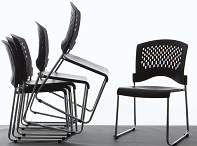 When you are looking for a simple and classy solution to extra seating space there is nothing more flexible than stackable office chairs. Stackable office chairs are a necessity for nearly every type of business, no matter what size the office is or what style of office furnishings you have. They are available in many different materials and colors so they fit into every office situation. In addition, you can have a supply of stacking chairs on hand to use as additional seating options in school auditoriums, church halls, outdoor events.
A tall office chair can come in a variety of shapes, sizes, and styles. Many offer options to adjust the high back office chair to suit your needs.
Reasons to Buy Stacking Chairs:
Classic styles
Easy to store
Comfortable styling
Variety of colors
Economical
Sturdy
Stackable office chairs are the best solution for additional reception chairs, easy to clean lunchroom seating or to pull up to your desk when meeting with clients or patients. You can stack them in a closet for out of the way storage and quickly pull them out at a moment's notice. When finished using them, you can easily restack them and return them to storage.
We offer a large selection of stackable office chairs with many styles and materials to choose from. Depending on your intended use, you can choose high quality plastic, metal or wood. If you're going for comfort, you may want to consider upholstered seats with padding, which can be color coordinated to any color scheme.
Contact us today to place your order with free shipping or to speak to one of our sales associates to answer any questions you may have. We build to your taste, you can choose your fabric, wood color and order your tall office chair right online!