Modern Executive Chairs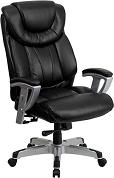 Modern executive chairs bring a look of luxury and professionalism to any office. If properly chosen, they are highly functional too. Users can sit in them each workday and not end up with the chronic back pain with the ergonomic chair design. These chairs are ideal for law offices, medical practices, hospitals, schools and anyplace where the purchaser wants to give visitors, patients and clients a good first impression.
We sell modern office furniture and modern executive chairs. Among the features available for our chairs are:
choices of seat materials, including leather, faux leather, vinyl and a variety of fabrics
variety of base and accent materials, including nylon, nylon and mesh, aluminum and wood (mahogany or cherry stain), can really set one piece of modern office furniture apart
choice of traditional styling, which suggests "old money" or a well-established business; or, sleek, contemporary styling, which suggests youth or hipness
casters designed for specific surfaces: one kind of caster is ideal for carpets and another kind works well on hard surfaces such as wood, tile and linoleum
some modern executive chairs are available in a variety of colors, including black, brown, white, turquoise and red
prices to fit every budget help to make purchasing modern executive chairs possible for almost anyone
Our modern executive chairs ship free. Contact us to learn more about are or to place your modern office chair order with free shipping today.