Affordable Office Furniture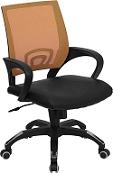 Adhering to the bottom line means making smart decisions that benefit your company financially while keeping your workforce productive and your clients and potential clients satisfied. When it comes to purchasing office furniture, getting the best value for your budget is perhaps one of the smartest decisions you could make.
We offer a wide variety of affordable office furniture that's specially designed to fit within almost any budgetary constraint:
Reception chairs
Task chairs
Conference tables
Lobby benches
Stacking chairs
Affordable office furniture offers the same positive qualities touted in more expensive furniture, but without the steep retail prices. For example, affordable office chairs offer an outstanding value while fulfilling one of the most basic purposes in any office environment -- giving employees a comfortable place to sit as they work throughout the day.
With plenty of designs, styles and colors to choose from, finding the right furniture while coming under budget isn't as hard as it seems.
Contact
us to learn more about our selection of affordable office furniture with free shipping on every order.