Beam Seating for Efficient Management of Floor Space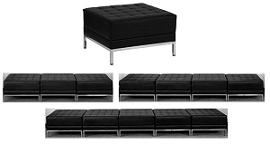 Does your waiting room handle a high volume of clients? Is the floor space in your reception area limited? Then beam seating may be the optimal, economical way of accommodating your visitors with reception seating.
Here are some factors to consider with beam seating:
Traffic: For high traffic zones like hospital or airport waiting areas, opt for four seats arranged along each beam. If you're more interested in maximizing tight floor space, two chairs per beam may be the better choice. Also, consider tandem seating or stacking chairs to save even more space.


Venue: Are your reception chairs intended for an indoor lobby or an outside
waiting area? Construction materials like rustproof steel mesh and powdercoat paint finishes enable some beam seating units to stand up to wind, rain, snow and temperature extremes. Other models equipped with cushions, for example are more comfortoriented, for use indoors.


Visitors' Needs: If your visitors face a long wait, provide for their comfort with features like lumbar support and ventilation perforations. They may also appreciate units that incorporate small table tops, to hold magazines, coffee cups, briefcases, etc.


Durability: If your reception chairs will experience heavy usage, choose solid construction materials and designs. Look for certification by ANSI/BIFMA for durability and safety. To make cleaning a snap, consider stainresistant fabrics and frames.


Colors: Many beam units are available in a wide variety of colors. Choose bright hues to lighten the atmosphere. Consider subdued pastels for a calming effect.
Our expert team will gladly help you explore your beam seating options to efficient manage your available floor space for reception seating. Contact us today to place your order or to learn more about our selection of beam seating and waiting room furniture.