Round Office Table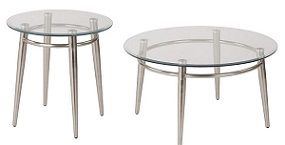 One of the main pieces of furniture to consider when putting your lobby, waiting room or reception area together is the office table or tables. Accessories can come later but you need that main piece to branch the room out and set the overall tone. Our round office table selection is next to none when picking a durable yet seamlessly formidable piece of furniture. A round office table can create a calm and collective mood for almost any office. Whether you're looking to create a communal area or a sleek, modern design, a round office table from Office-Chairs-Discount.com is a prime choice for almost any office setting.
After finding that perfect tabel, you'll need to furnish the rest of your office with at least a few occasional tables. That's where Office-Chairs-Discount.com has your back. Find office tables, lobby tables, waiting room tables, reception area tables, nesting tables, telephone tables, foyer tables, hall tables or entryway tables all of the contemporary persuasion. Whether you're looking for rectangular, U-shaped, boat-shaped, round, oval, or more, we have an incomparable selection of conference tables that are available in various sizes, colors, finishes, and configurations. Offering unmatched durability, style, and versatility, our contemporary tables are unlike anything else in their class.
Office Chairs Discount.com has all kinds of styles and colors to help you open a new office or find the last piece to complete your office. There is no need to look through catalogs only to discover they don't have what you need. Shopping for office furniture has never been so easy. For big offices or small, Office Chairs Discount has everything you need in an affordable and easy-to-shop place.
Contact us to learn more about our round office table selections or our waiting room furniture in general and place your order today.