Modular Office Furniture Systems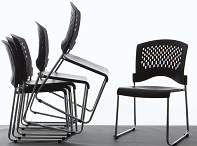 If you are in need of modular office furniture systems and you want something that is versatile, cost efficient and easily replaceable, then modular office furniture systems are the perfect choice.
Modular furniture can be arranged in a variety of different ways, you can customize your office the way you want it without going over your budget. Our easy to use online shopping cart or phone ordering system will allow you to pick and choose the furniture pieces that you want to create the perfect solution for any medical, law or professional office environment. Our office furniture is also versatile because it can be rearranged at any time if your needs change.
Popular modular office furniture solutions include:
Additionally, modular office furniture systems are cost efficient because you only order the pieces that you need. This allows you to get exactly the number of desks or chairs that you need without paying for anything additional. If you want to replace or add any additional furniture, you may do so without starting from scratch. Office modular furniture allows you the flexibility you need for a growing and changing company, no matter the space or building that you may occupy.
No matter what type of office you run or own, whether it is medical or professional, modular office furniture systems are the ideal versatile and economical choice for your office supply needs. Contact us today to place your office furniture order or to learn more about our office furniture selection.;