Efficiency, Privacy and Style for the Modern Reception Desk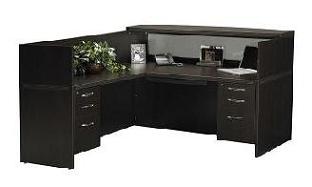 Modern reception furniture must address the priorities of today's workplace. Keep this particularly in mind when shopping for a modern reception desk, which must accommodate computer and other electronic gear. Equipped with a raised counter to protect the privacy of papers on the work surface, the desk should be user-friendly for your customers and clients, while also meeting the needs of your hard-working receptionist.
Here's a short checklist to consider when selecting a modern reception desk:
Style -- Conveying the first impression of your company, the desk should accurately reflect your style. Choose from traditional, transitional and contemporary designs. Additional construction features like marble countertops and flexi front panels will convey more information about your company's image.
Color -- Our inventory features a wide range of colors, from honey and beech to mahogany and mocha, to ensure the right match with your office's color scheme.
Space -- Measure the square footage of your reception area, to ensure the right fit. We have simple, straight-front desks that take up less space. For larger offices, consider L-shaped or U-shaped models. Other options include bow-front and modular desks.
Practical Options -- Consider whether you want built-in file drawer pedestals or mobile ones, mounted on casters. Look for grommets to conceal computer cables, electric and phone wires. Leveling glides will ensure plumb work surfaces.
Contact us
for help in selecting the perfect desk and other
modern reception furniture
for your office or to place your order today. We build to your taste and shipping is always free.